GOLD Sponsors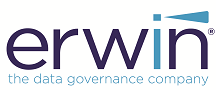 ERWIN
erwin remains the most trusted name in data modelling while expanding its expertise to include solutions for data intelligence and governance. The erwin EDGE delivers an "enterprise data governance experience" that accelerates the transformation of enterprise data into accurate, actionable insights. As a role-based platform with integrated data preparation, enterprise modelling and data governance, IT and business stakeholders can collaborate in discovering, understanding and unlocking the value of data both at rest and in motion. The result is an accurate, high-quality and real-time data pipeline that fuels regulatory compliance, innovation and transformation.
NTT Data
NTT DATA is a trusted global innovator headquartered in Tokyo, with 118,000+ professionals in more than 50 countries. We deal with innovation, design, technology, cybersecurity and AI, delivering tangible business results by combining deep industry expertise. NTT DATA is part of NTT Group, a partner to 88 percent of the Fortune Global 100.
www.nttdata.com/it
PMProgetti
PMProgetti is an Italian training and consulting company, highly specialized in professional services in the areas of Business Analysis, Portfolio/Program/Project Management with an international vision that allows it to capture trends and transfer knowledge and approaches to innovate and give value to customers.
Creating value, professionalism, ethics, passion and innovation are our guiding principles. We actively support international organizations such as International Institutes IIBA ® and PMI ® with great commitment, because sharing and collaboration are the basis for finding valuable solutions for everyone. PMProgetti has gained the "Endorsed Education Provider® (EEP®) – IIBA ®" and "Registered Education Provider ®(REP ®) – PMI ®" certifications.
---
Partner

---
Event Patrons
FORTYTWO
FORTYTWO is a strategy and design innovation company. We have broken the rules and schemes in the field of strategic consultancy becoming in few years one the more innovative consulting agency.
We think that there is another way to make things, through new engaging and involving visual methods, business and strategy design, design thinking approach and co-creation. We like to focus on tangible results and turns ideas in new businesses.
WE DO THINGS DIFFERENTLY!

GROUNDESIGN
GROUNDESIGN is a design agency.
We think there is another way "to do things", involving customer's teams, using new and visual tools, with special focus on results.
---
Media Partners
---